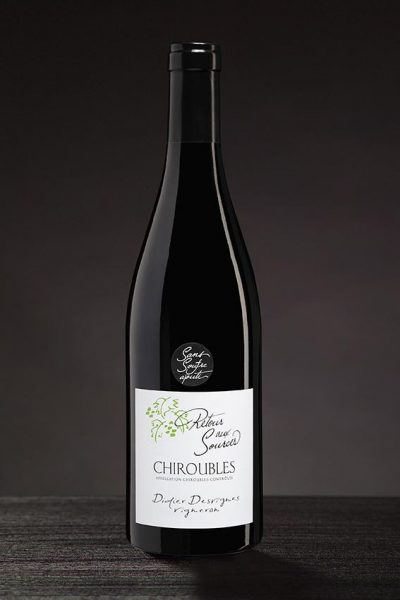 Vineyard location: the vines for this Cru grow on the commune of Chiroubles. The east/southeast facing aspect of our vineyard is wonderful for the vines. The terrain is very rugged.
Grape variety: Gamay noir à jus blanc
Colour : red.
Soil: Very homogenous, made up of quite big grains of granite with a few veins of granulite here and there .
Tending: Spur goblet pruning with 3 to 5 spurs, each with 2 eyes. The soil is removed from around the trunk in autumn, shallow-ploughed or tilled in winter and scraped in the spring .
Vinification : after manual harvesting and careful sorting of the whole bunches; 5 to 6 day fermentation with no addition of sulphur.
Elevage : there is no addition of sulphur during vat maturing. The wine is the racked (drawn from the vat) with no aeration and bottled with no use of sulphur. Closure is with an organic cork.
Characteristics: its harmony is built on the freshness of its fruit aromas and flavours..
Cellaring: this wine may be enjoyed in its youth, as well as after 3 years.
Food and wine matches: its personality makes this wine the ideal partner to poultry and grilled meat.