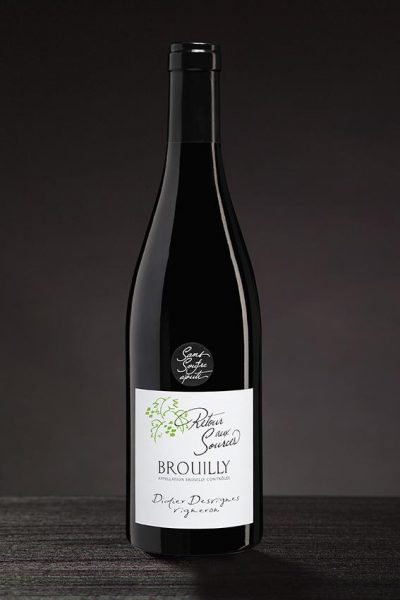 Grape variety: Gamay noir à jus blanc.
Vineyard location: All you have to do is look at Mont Brouilly, topped by its chapel which was built in 1857 on the highest point of this volcanic rock.
Colour: red.
Soil: It is made up of altered elements from the bedrock, as well as there being tongues of limestone and schist in the subsoil.
Tending: Spur goblet pruning with 3 to 5 spurs, each with 2 eyes. The soil is removed from around the trunk in autumn, shallow-ploughed or tilled in winter and scraped in the spring.
Vinification : after manual harvesting and careful sorting of the whole bunches; 6 to 7 day fermentation with no addition of sulphur.
Maturing: there is no addition of sulphur during vat maturing. The wine is the racked (drawn from the vat) with no aeration and bottled with no use of sulphur. Closure is with an organic cork.
Characteristics: notes of fresh raspberry on the nose. Lovely fruitiness on the palate with a crunchy feel, flesh and volume.
Cellaring: this wine may be enjoyed in its youth, as well as after 3 to 4 years.
Food and wine matches: This wine pairs well with terrine of young rabbit with rosemary, poultry stir fry, roast pigeon, and saddle of lamb served with its reduced cooking juices.
Serve at 13°C (55°F).